---
"Georgist Community Fund" Continues Steady Growth
The Georgist Community Fund (GCF), the international association of objectively qualified and self-professed georgists founded and facilitated by the HGIEC since mid-2011, increased its membership to 74 members as of early November. The CEIHG is facilitating further CE workshops for CE intermediate and CE superior-level graduates in November and December, in the hopes of bringing the growth of the GCF membership to more than 80 members by the end of 2013.
An important part of the GCF strategy to attract new members and retain current members is in the increase of membership benefits. These include free or discounted access to the CEIHG's developing program of educational seminars and classes, such as the weekly English class, as well as various services, such as internet computer access provided by the CEIHG exclusively for GCF members, and social activities, such as afternoon volleyball.
Other important areas of growth for the GCF have been in the increase in the number of attendees at GCF meetings in Managua, as well as the growth of the "Common Fund" to over $1,000 dollars. This amount will be distributed to all "active" GCF members in the distribution ceremony in Managua in January 2014, and to "active" international members via electronic payment.
While all measureable growth indicators of the GCF are steadily rising, the GCF is still lacking in an adequate participation of membership by international georgists. The GCF hopes to attract more international members as time and GCF membership numbers increase. . . See GCF membership/participation statistics.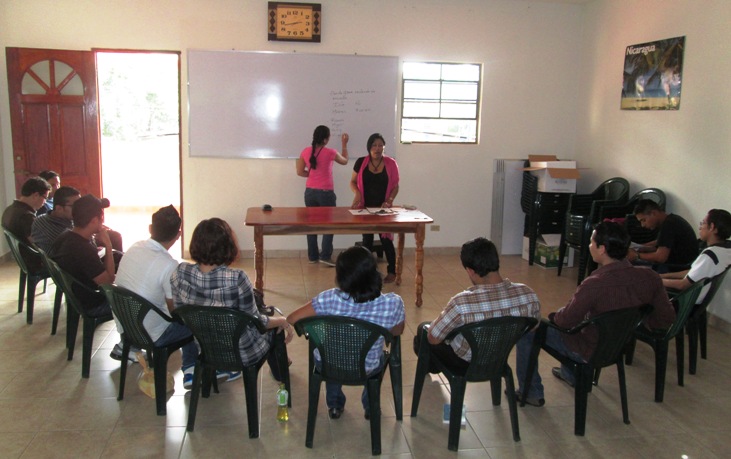 November GCF meeting to plan and organize CEIHG educational programs and activities.
Related photos

---
CEIHG Proposes Comprehensive Georgist Education Program
CEIHG Director Paul Martin, in collaboration with the Robert Shalkenbach Foundation, produced a strategy paper which explains how to create an effective Georgist national and international movement of conscious reformist action via a comprehensive elementary (primary), high school (secondary) and university education program. Below is an excerpt of the paper and a link to download the entire paper. (Copyrighted by Paul Martin and the Robert Shalkenbach Foundation - Can be reproduced and shared for educational and non-profit usage, giving credit to both parties.)
"If the goal of the Georgist Education Program (GEP) is to contribute to the building of a mass movement of conscious adults dedicated to the Georgist cause, then the program must do more than just effectively teach information in intensive educational programs to be successful; it must also be able to instill Georgist consciousness and values and motivate further individual and group action which reinforces those values and constantly builds understanding of and belief in the efficacy and moral predominance of the Georgist paradigm. The CEIHG experience and the observation of similar GEP's in the past and present, indicates that mere adult education is only part of a wider and deeper approach to education that must be used if the Georgist cause is to ever be taken up as a mass movement."
"Therefore, logic indicates that the successful paradigm for GEP's be framed to include a comprehensive program which includes the instilling and reinforcing of Georgist consciousness and value identification which starts at the pre-school level and extends to the highest level of post graduate study."
"It would seem that the most feasible way to start to develop such a program would be to develop a model program in a Latin American or other developing world country where such school programs are commonplace, opportunity for entry into the education system is more open, and costs are relatively low. When the program becomes functional, it can then be duplicated in other countries at a minimal cost and could even serve as a model for implementation into a public school system."
View and download

Georgist Education Program Guidebook


Director Martin reasons in his paper: if other religions, philosophies and movements can offer the public their own
particular flavor of education for children and young adults, the Georgist Movement can and ought to do the same.
Related text and photos

---