Instituto Henry George ...
Managua, Nicaragua
---
NOTICIAS, Noviembre 2001

National Elections Leave Nicaragua As Is


Seventh and Eighth CE Economics Courses Graduate


IHG Radio Program Continues Airing


IHG Outreach Projects Make Contact with the Public


IHG Seeks Funds to Buy Permanent Location

National Elections Leave Nicaragua As Is...
Managua, Noviembre 5, 2001 -- At the end of a turbulent and unpredictable election year, after all the votes were counted, the ruling Liberal Party remains in the Presidential Palace in Managua. The opposition party Frente Sandinista de Liberación Nacional (FSLN) came in a close second despite consistently leading in the polls almost up until the very day of the election. It appears to be the Michael Dukakis campaign syndrome where the Sandinistas committed themselves to running a positive non slanderous campaign whose slogan was "Love is Stronger than Hate", while the Liberal Party could not stoop too low to sling mud and paint the Sandinistas as being just this side of Saddam Hussein and Asam Bin Laden. Despite, or maybe because of, the fact that the Liberal Government has nearly bankrupted the Nicaraguan nation while rushing to privatize all of her national assets, this new government will give the IHG a continuing opportunity to attract hundreds more eager students who desire to learn about the alternative to unemployment, starvation and social humiliation. The opposition "Convergencia", under the Sandinista umbrella, should be more open to listening to proposals from the IHG on the remedy for the country's deepening economic crises. The IHG handed over information packets with proposals for such studies to the Sandinista presidential candidate and his advisors before the elections and was encouraged by their initiative for tax reduction as well as a positive response to the Georgist remedy in the Sandinista Mayor's office a few months ago. The IHG plans to intensify contacting activities targeted at the new Nicaraguan congress and government officials with the goal of offering them the LVT solution via a proposals for the study of the georgist theory and remedy in Nicaragua. The IHG will support our proposal with our university and business surveys and property value price study, as well as the CE course graduate petition, signed by more than 200 CE graduates, which specifically asks the new government to realize a study on LVT implementation in Nicaragua.
Seventh and Eigth CE Economics Courses Graduate
Managua, Noviembre 2, 2001 -- The Instituto Henry George's seventh and eigth intensive "Comprender la Economía" Political Economy classes graduated 52 and 53 students respectively in September and October. Almost all of the two classes of 96 and 82 students who finished the courses signed the IHG's ongoing petition requesting government officials to be made aware of the Georgist remedy and to implement feasibility studies. Of the 29 "Superior" level graduates of the August course, 24 attended the follow-up volunteer participation meeting. The current graduating class of "Superiores" will be meeting this Wednesday November 7th. This lastest course is notable because after the first class, the remaining 5 classes were administered and taught entirely independently for the first time by four graduates of the IHG's first teacher training course. Meanwhile, the second teacher training course which started with graduates from the July and August courses continues to advance with 14-18 students in regular attendance. The IHG plans to hold one last class for 2001 which will start on November 26th.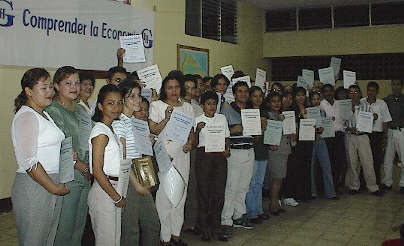 CE September 2001 Course graduates above. Click here for a related photos.

"Comprender La Economía" Course Statistics 2000-2001
| | | | | | | | | |
| --- | --- | --- | --- | --- | --- | --- | --- | --- |
| | CE 6-00 | CE 8-00 | CE 10-00 | CE 2-01 | CE 5-01 | CE 7-01 | CE 8-01 | CE 10-01 |
| # Days Promo | 18 | 7 | 9 | 10 | 15 | 11 | 10 | 10 |
| Promo Media | END/Vol.s | END/LP | LP/END | LP | LP/END, Fly, Survey | LP, Fly, Survey | LP, Flyers | LP, Flyers |
| # Days App.s Received | 23 | 8 | 8 | 11 | 14 | 12 | 11 | 10 |
| Total App.s Disbursed | 194 | 341 | 165 | 322 | 354 | 284 | 293 | 247 |
| Total App.s Received | 72 (37%) | 179 (53%) | 89 (54%) | 159 (49%) | 159 (42%) | 166 (58%) | 127 (43%) | 106 (43%) |
| Inicial # Course Participants | 50 | 50 | 96 | 102 | 103 | 108 | 96 | 82 |
| # Course Graduates | 23 (46%) | 22 (44%) | 46 (48%) | 52 (51%) | 72 (70%) | 62 (57%) | 52 (54%) | 53 (65%) |
| Voluntarios Recruited | 5 | 5 | 10 | 10 | 15 | 20 | 24 | ?? |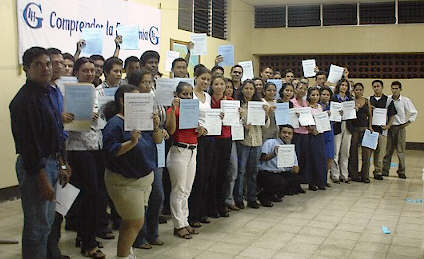 CE October 2001 Course graduates. Click here for a related photos.
IHG Radio Program Continues Airing Economic Reality
Managua, Noviembre 3, 2001 -- The IHG's radio program "Comprender La Economía" continues airing for its second season since August 21st. The program airs for an hour at 11:00 AM and 8:00 PM every Tuesday on Radio Mujer 94.7 FM in Managua. Recently the show included an interview with a Nicaraguan economist and an interview with noted Georgist expert Jeffrey Smith. Regular features include readings from Progreso y Miseria (Progress and Poverty) and news comentary from a Georgist perspective.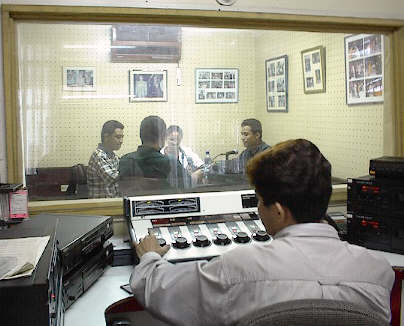 The IHG radio show airs live every Tuesday morning and is rebroadcast in the evening.
IHG Outreach Projects Make Contact with the Public
Managua, November 3, 2001 -- During the last two months, the IHG has been realizing a campaign of public awareness via placement of flyers and information tables at various unversities in the capital. To date, hundreds of students have been contacted and given IHG brochures. The Instituto's letter writing campaign has advanced with the participation of Jeffrey Smith who began coordinating letter writing groups at the end of October.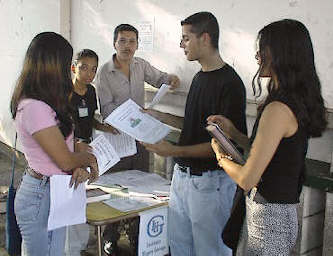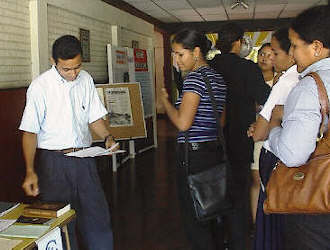 Volunteers show IHG literature to interested university students.
IHG Seeks Funds for Permanent Location in Managua
Managua, Noviembre 3, 2001 -- With the growing number of active volunteers, the IHG program should be growing by leaps and bounds, but there is a limitation that is holding back the process, and that is the present lack of an adequate facility to house the Instituto. Currently the IHG is housed in a three room townhouse which can comfortably accomodate meetings of up to 25 volunteers and activities of 10 volunteers at one time, without provision for receiving the public and with limited office space. The IHG plans to rent a larger temporary facility for the short-term while raising funds for the purchase and development of a permanent facility which will be able to fully employ its volunteer participation and also help gain the credibility necessary to further the influence of its projects. The planned multi-use facility will include ample classroom, meeting, and office space as well as space for a library/bookstory and lounge. There will also be space for a Spanish language school which will integrate foreign students and help pay for the Instituto. The IHG recently found and ideal location located in a secure neighborhood central to many main bus routes and has an estimated budget of $80,000 for its purchase and development. Individuals interested in supporting this fundraising effort are encouraged to contact the Director of the Instituto.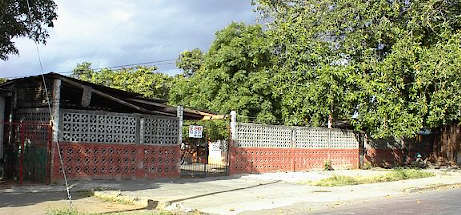 The future IHG site measures approximately 1000 square meters and has a negociable price of $40K.

"Work with passion, have fun, save the world!"
"Trabajar con pasión, divertirse, salvar el mundo!"

Return to main News-Noticias Page
since November 6, 2001