Henry George International Education Center
Centro Educativo Internacional Henry George
USA/Nicaragua
---
NOTICIAS, December 2012
CEIHG Graduates 47th Comprender La Economía Course
"Georgist Community Fund" Grows and Celebrates Its 2nd Year
CEIHG Managua Program To be Inaugurated in February 2013
---
CEIHG Graduates 47th Comprender La Economía Course
The CEIHG Managua's "Comprender la Economía" class XLVII graduated on October 24th with 23 graduates, 11 of whom were superior-level and qualified for Georgist Community Fund membership. One successful new element of this course was the employment of a minibus to transport the students to the major bus hubs after each class, thus resolving the late night security and transportation access problems of earlier courses. Another improvement to the course was that the evaluation criteria and calculation was revised to ensure a more realistic evaluation of the certification level of each student. Click here for complete "Comprender La Economía" Course Statistics, 2000-2012. At this writing, the HGIEC has no funding for next year's planned four CE courses and is actively seeking personal donations and new funding sources.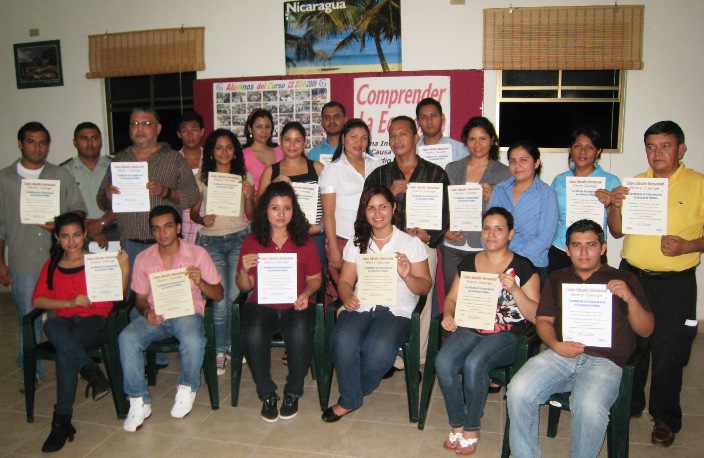 CE XLVII Course Graduates. >>> Related photos

---
"Georgist Community Fund" Grows and Celebrates Its 2nd Year
The Georgist Community Fund (Fondo Comunitario Georgista en español), the international association of professed georgists facilitated by the HGIEC, grew to 55 members as of December 2012. Towards the end of the year, member meetings had more participation. A visit from HGIEC Vice-President Ted Gwartney attracted a record number of participants who came out to greet him and his wife, Toni. Unfortunately, the GCF end of year celebration on December 15th was not nearly as well attended as the previous year, as many members had competing commitments for their time during the holiday season. At the celebration, GCF Director announced that the "Citizen's Dividend" would be distributed in the month of January.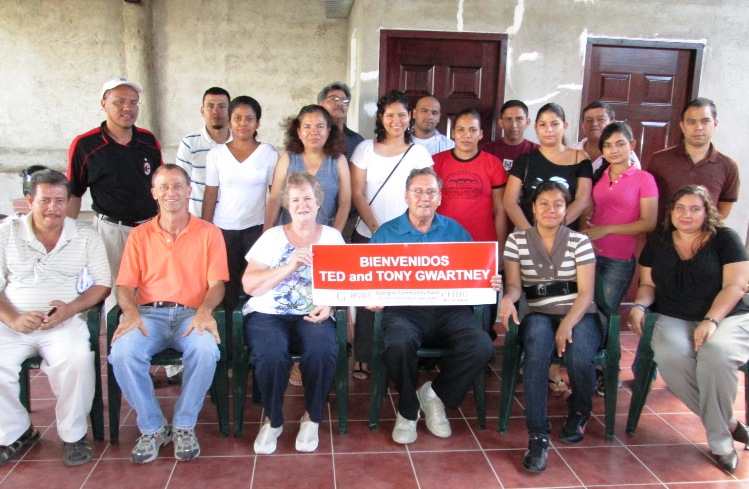 Ted and Toni's international visited attacted a record GCF meeting attendance. >>> Related photos

---
CEIHG Managua Program To be Inaugurated in February 2013
The CEIHG has finished the construction of the hospitality and café area and of three interior rooms and offices on its second and third levels. The rooms will be used for office space as well as a guest room for visiting international georgists. Painting of the main building is underway and should be finished by the end of January. Final finishing of the front wall will be undertaken in February.
The CEIHG pans to inaugurate the CEIHG program and building in February, offering a series of seminars and workshops for Nicaraguan and international students interested in economic justice, sustainable development, and rational inquiry into alternative paradigms of human understanding and progress.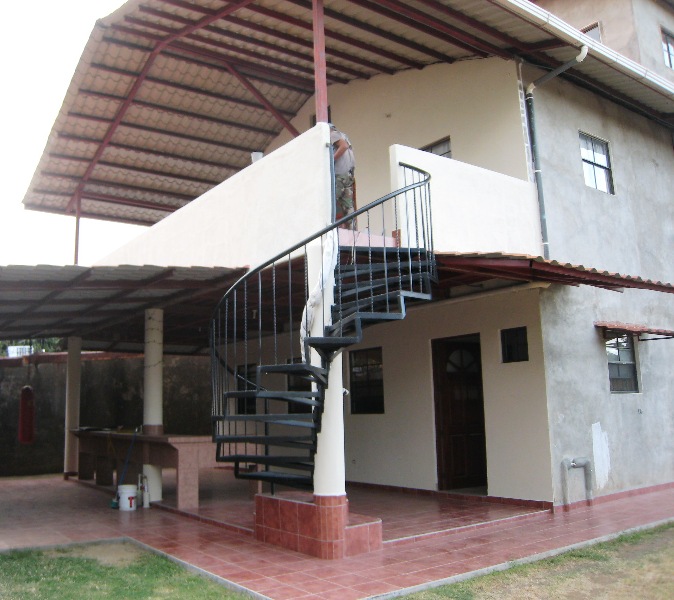 Applying the first layers of paint to the CEIHG building, December 2012.
---
Return to

Main Menu page / News-Noticias page / Top of this page

since Dic 2012