Instituto Henry George ...
Managua, Nicaragua
---
NOTICIAS, April 2007

34th and 35th CE Economics Courses Graduate


CE Graduates Initiate Teacher Training Course


IHG Volunteers Bring George to the People of Nicaragua
34th and 35th CE Economics Courses Graduate
The Instituto Henry George's 34th and 35th intensive "Comprender la Economía" political economy courses, which had a combined attendance of 147 students, graduated 59 and 45 students on February 28th and March 28th respectively. Once again, more than 90% of the graduating students signed the IHG demonstrative petition expressing their support for a national study of the LVT solution in Nicaragua. Click here for complete "Comprender La Economía" Course Statistics, 2000-2007.

CE XXXIV Course Graduates, Feb 28, 2007.
>> Related photos


CE XXXV Course Graduates, Mar 28, 2007.
>> Related photos
CE Graduates Initiate Teacher Training Course
A group of 34 CE graduate students enrolled in the IHG's renewed teacher training course, offered in response to the request of the graduate students themselves. Among them were those who contacted their church, student, or other type of civic group to survey their interest in receiving a workshop or seminar on the Georgist remedy for Nicaragua. As the results were encouragingly positive, the students expressed their desire to prepare themselves to be able to give presentations to these interested groups. In the orientation meeting on April 2nd, students took turns explaining why they were interested in continuing their study of the Georgist remedy and the IHG's teaching method. Young and old expressed the desire to make a positive change in Nicaragua by teaching enough of their countrymen to bring the question of the single land value tax to serious consideration at the national legislative level. The news initiative of the graduates was accompanied by meetings and presentations by leaders of various civic groups in Nicaragua, including the Red de Consumidores, Movimiento Comunal, and a leading Nicaraguan economist, Nestor Avendaño. The IHG has proven that it can teach as many students as it has space and resources for. The next step is to build up the pyramid with the participation of new teachers and new allies such as have been consulting with the IHG in recent months.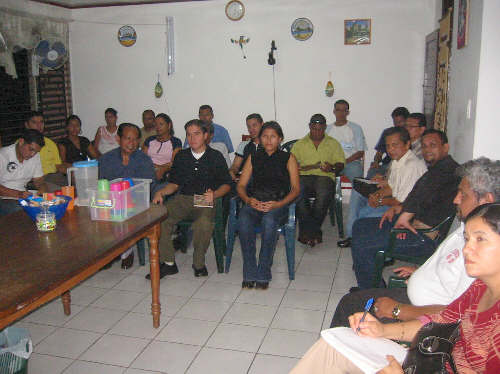 34 CE graduates attended the advanced "Maestría" course orientation at the beginning of April.


>> Related photos
IHG Volunteers Bring George to the People of Nicaragua
During January and March the IHG staff and volunteers made a great effort in promotion at universities and other locations in Managua which allowed many students to attend the CE course. This was a great intensive effort supported by diligent organization of the IHG office.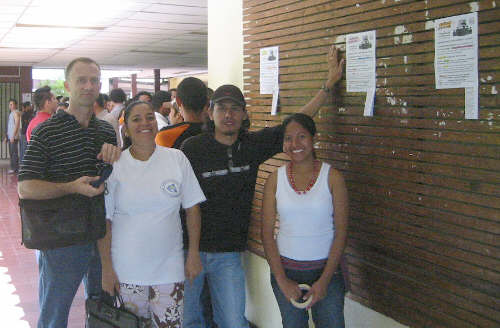 The IHG Director and volunteers put up 1,800 flyers in January and February.


>> Related photos

Return to main News-Noticias Page

"Work with passion, have fun, save the world!"
"Trabajar con pasión, divertirse, salvar el mundo!"
since April 2007